Our past concerts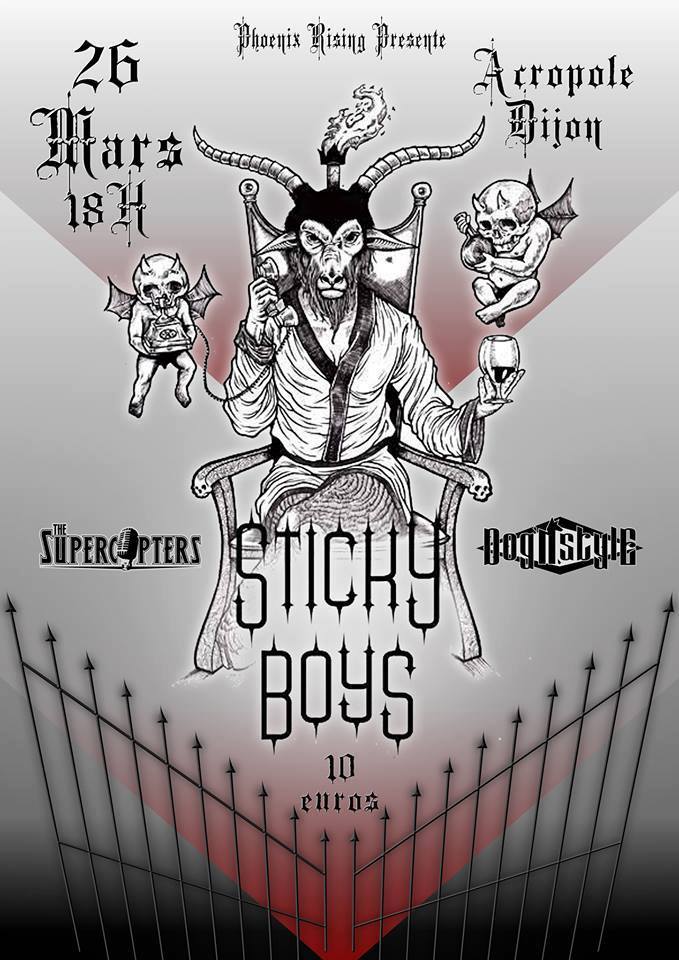 STICKY BOYS
March 26, 2017, at Acropole's K'vo
How to resist the poster proposed on this Sunday evening of early spring? Rock'n'Roll, real one, with our vosgian friends Dog'n'Style, the natives Supercopters and tonight's headliner, the Sticky Boys.
Dog n' Style
The evening starts early, like a dinner in a nursing home, but it is not soup that we serve tonight ! The energetic Dog'nStyle instead sends us heavy served with Red Bull!
The group had delighted us at the Deep Inside a few months ago, and it is with pleasure that we take back in full face their effective songs, melodic, well done and quickly memorable. The interpretation is flawless, and the audience, although still a little sparse, seems to appreciate. The merch' took a blow!
Supercopters
Some time to enjoy the rays of the sun on the terrace of the Acropole and the Supercopters settle down in the basement. The crowd is more thick and the group is clearly expected. The Motörheadian Rock'n'Roll blows and seems to delight everyone.
The arrival for some time of a fifth member brings a welcomed little something, although the scene here is a little narrow !
Sticky Boys
Hardly time to recover as the crazy sweet trio invested the scene. And there, pay attention to the neck and feet. Do not get trapped with the cover of the last one, Call The Devil, we are not dealing with a satanist group, but pure Rock'n'Roll.
Well, it's a bit lacking in Gibson, but I'm not objective. Let's say that for a Fender, it sends nevertheless well! No, really nothing to say, whether on a big stage or in a cellar, the Sticky Boys know how to make you stamp with a smile that does not fade from the concert, and even after.
The kindness of the boys do not make us regret to welcome them in Burgundy lands. This could be the leitmotif of the evening : smile, heavy and booze!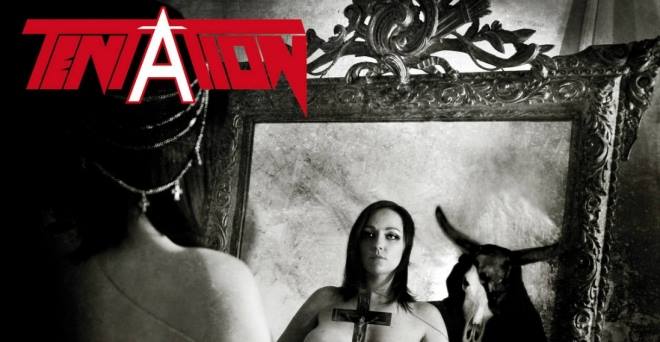 TENTATION
Deep Inside, january 28, 2017
Kingslayer
At the beginning of the year, nothing is worth a good night out to get started ! And what better than a good Heavy evening to get the cervical back up ?
To start the fight, Kingslayer came from the north (well, compared to Dijon, Alsace is the north!), launch us his Heavy with guts to remind us that the Christmas carols are finished. After all, we would have picked up a little ladle and it is not the ribambelle of fans who follow them since their starts 3 years ago, who will say the opposite. Young but strong!
Depths of Madness
A small break, the time to the natives of Depths Of Madness to mount their amps and it's left again for 45 minutes of more melodic Heavy, leaving the beautiful part to the vocals gently carved and to the sorings of guitars.
Once again, fans are present and visibly delighted. And we are too, especially during the successful revivals that are Run to the Hills and Still Loving You of "you know who", but in boosted version. Another group to follow closely.
Tentation
And last but not least, place to the expected Temptation that come to us from the South (this evening, the hexagon was well represented!). And when I say very expected, it is an understatement ...
What an ambiance in front and on stage with hair that never ceases to jiggle and lyrics chanted like hymns. A great moment for any self-respecting French Heavy Metal fan!
Thank you all for this successful evening that allows us to face the winter with strength and power. Steel forever !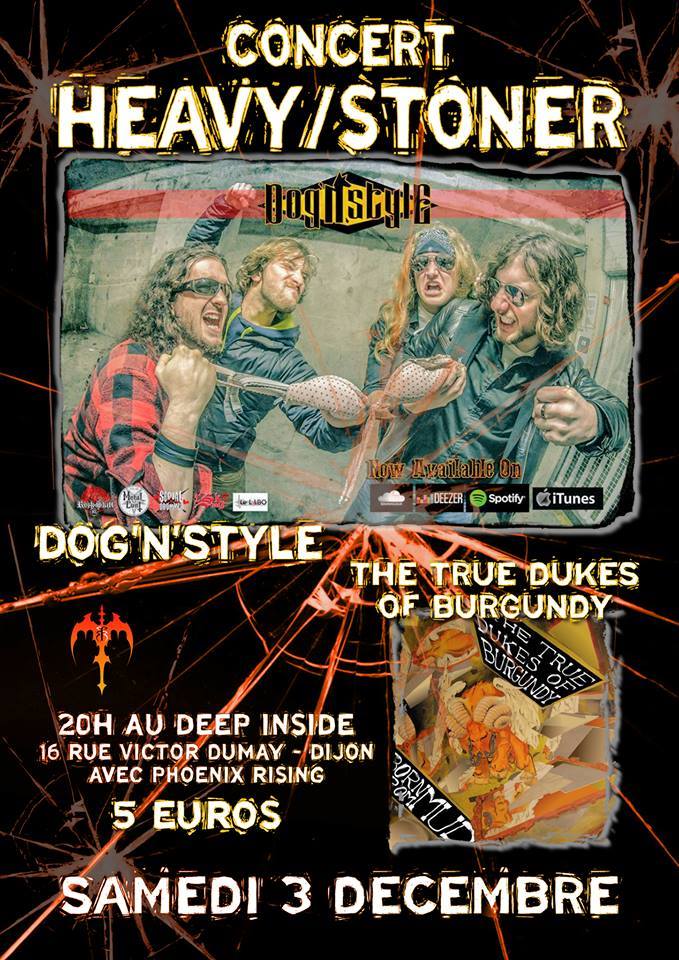 DOG N'STYLE
Deep Inside, december 3, 2016
True Dukes of Burgundy
Let's be clear : In Phoenix Rising, we know quite well the True Duke of Burgundy and we are always happy to have them play. And after this damn good concert that they delivered us at the beginning of winter (some will say as usual ...), we all said that we should put this more often with them.
Big bass, big guitar and a lumberjack drummer (though physically decreased). Ideal to start the evening!
Dog n' Style
We continue in our concern for straightness : In Phoenix Rising, we didn't know Dog N' Style at all before tonight. But better late than never ! What a big slap we've caught in the head !
In a Power Stoner Rock streak with guts, in the Headcharger or Bukowski style with a more Rock N' Roll touch, our new friends from Vosges are posing as a great defender of this style !
Same conclusion as for the True Dukes: Guys, be sure we will cross you again in Burgundy lands !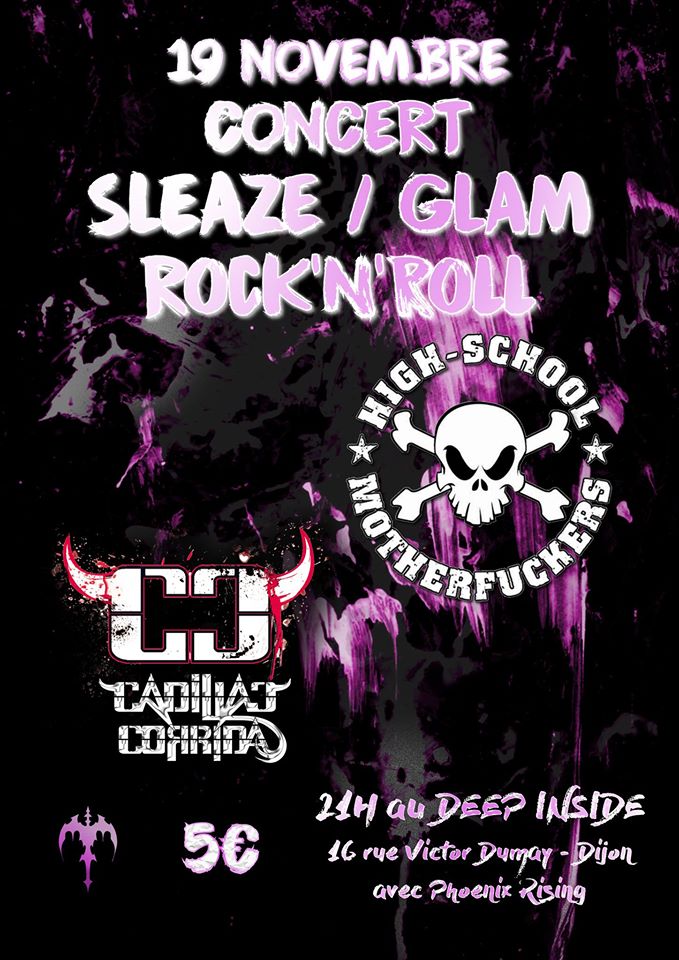 HIGH SCHOOL MOTHER FUCKERS
Deep Inside Rock Club, November 19, 2016
How to qualify this evening along with High School MotherFucker and Cadillac Corrida ? Good mood ? Flawless reception of Deep Inside ? Kindness of all participants ? Pleasure to play ? Public of Dijon well present and on fire ? Whiskey at will ? Fresh beer ? Damn good musicians ? Excellent show ? Sleaze  and Rock 'N' Roll ? Fiesta ? Great atmosphere ? High level music ? Big energy on stage and in the hall ? In short, a great night ? Yes, quite simply !
High School Motherfuckers
Created in april 2003, the four parisian punckrockers of High School Motherfuckers draw their inspiration from the mythical Ramones, Motörhead and others Sex Pistols. Indeed, the HighSchool Motherfuckers band has played their first concert as a tribute to the Ramones with Jean Beauvoir (Kiss, Ramones, Plasmatics, Little Steven ...) himself. They started fast and hard on recording their first EP in 2004, "Want some ?!". And then on their first full album " Education Backseat " in 2009.
They have been seen in concert from Switzerland to Hungary through the Netherlands and Denmark, with bands such as Nashville Pussy, Black Rain, Adam Bomb, Sticky Boys and many others.
As they crisscrossed the roads of Europe, they continued to work on the new tracks. This is how the EP "Jesus Ep" and the album "Say you just do not care" were born.
The release of a split with The Joystick brings them back on the roads, more determined and motivated than ever.
Cadillac Corrida
Founded in 2011, the band of heavy and rock'n'roll from Besançon is constantly convincing their audience with live performances, first with covers of the legendary Motorhead, Megadeth, and even Aerosmithian ballads, then in 2014, with their first album "Enter the Arena" which comes to flourish the Loud French scene.
Inspiration side, Cadillac's four musicians, including Corrida Cervez (ex TAF, RUN OF LAVA) and Mainro (ex RUN OF LAVA, DEJECTED, MUNKY POSSE) follow the path of the mythical Motley Crüe, Skid Row and Pantera, and ensure an explosive hard'n'heavy stamp tinged with explicit lyrics.
On the occasion of the release of their first album, the group is expanded by Kriss, their performer, who also poses as a model on their cover.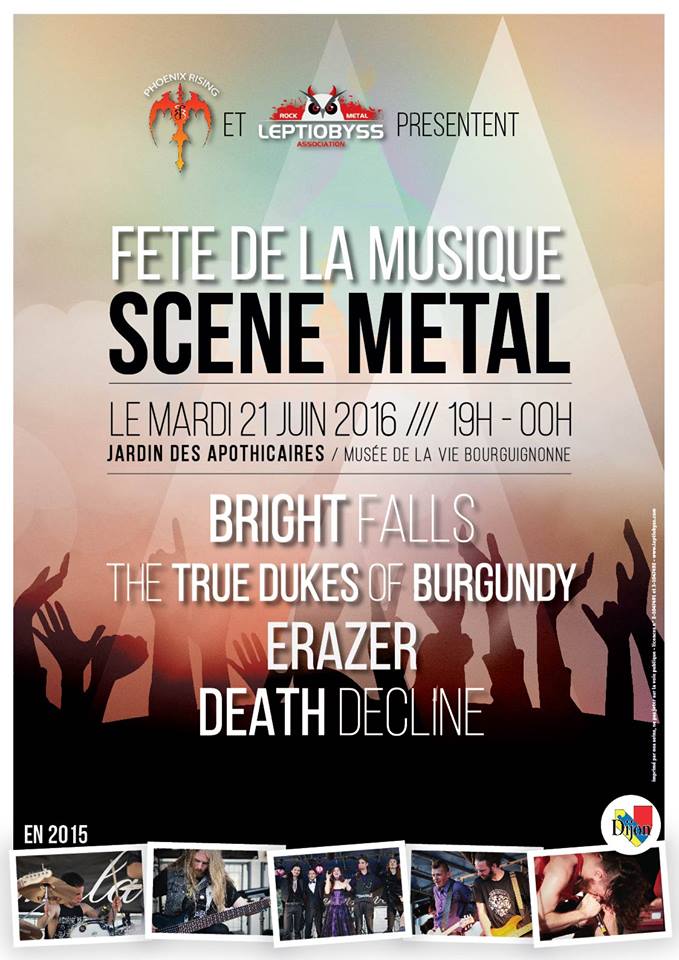 FETE DE LA MUSIQUE 2016
Organised this year again with Leptiobyss Association, a big success !
Avec the bands :
Bright Falls
The True Dukes of Burgundy
Erazer
Death Decline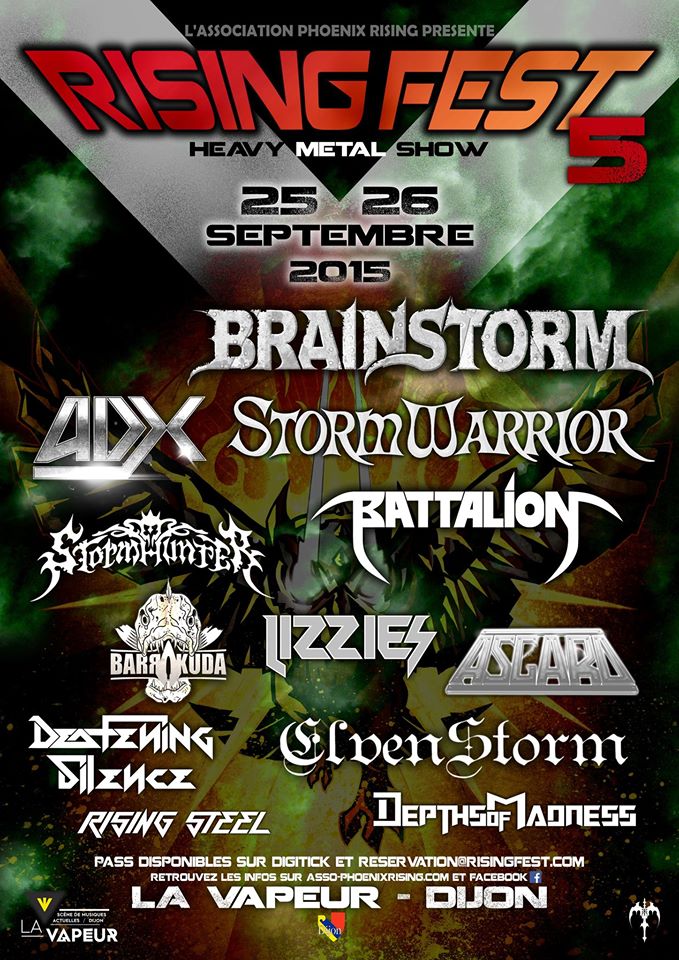 RISING FEST V
Friday
In Burgundy, the horny beasts aren't only in our plates… Some were at la Vapeur in Dijon on September 25th et 26th ! For this fifth edition of the Rising Fest, you could taste no less than 12 groupes during those 2 days.
To start the fights, Rising Steel (more Metal for a name you die !) offered us a strong and straight heavy offered the earliests of the evening a start with a serious appetit.
Straight following with Deafening Silence, who for almost 18 years, plays a perfect Power Heavy to unstyle local brushings. Hats off for the 2 substitutes of the day, cause we wouldn't have seen anything if Nicolas Grette (vocals) didn't present them as such.
Change of style with Barrakuda. We left the NWOBHM to join a Hard Rock made in Australia, with a vocal just inherited from our national Trust. The combo drums were fully loaded and it was difficult no to do foot tapping, shake your mop of hair, and maybe more (for some, there WAS more !).
After this good slap, change of stage to let Stormhunter play. Back in the heart of the Heavy Metal made in Germany. The firsts riffs played, and here we are in a well-known place : some melodic, an uncontrolled riff and choirs strong enough to motivate a great warriors army !
The evening ended beautifully with the very expected ADX. The frenchies celebrate the 30 years of their first album et obviously, a good part of the fans of the firsts times (but not only) were happy to celebrate with them. That was a huge pleasure to welcome in Burgundy this embleme of the french Heavy Metal back in a good shape for years now, to the front of our national stage.
Saturday
For this second day of the Rising Fest, the regionals of Depths Of Madness had the difficult task to attract in the great room in la Vapeur the firsts MetalHeadz arrived on site. Mission complete ! Despite the almost early hour, and the wonderful sun : full room at the firsts notes. On the other side, how could it be otherwise with a so high calibered Heavy Metal ?
No time to breathe, Elvenstorm invaded the stage to rock its good warriors Metal. The band from Grenoble have no equal to make a hairy group move. And this concert in Dijon didn't make lie their reputation !
After a little Cerveza reload, up to Lizzies, or how four spanish girls nous ont relapsed us right in the middle of the eighties, avec un Hard Rock under steroids and testosterone. Charismatic presence on the scene, a huge rythm session, vocals and guitar both energic and melodic. Those girls just provided a great concert ! Viva Espagna !
We stay in the south with DarkTribe, who replaced in emergency (thenks to you !) our friends of Battalion, obliged to cancel at the last minute. And despite a road longer than planned (Yeah, Nice isn't next door...), their Heavy Metal concert with a fair amount of prog was an other highlight in this Rising Fest edition !
An other occasion in this edition : the first show of Asgard in France. This name isn't well-known inside our frontiers yet, but with THIS prestation, we're waiting for a quickly turnaround for those Italians. Cause in the effective Heavy Speed Thrash style, Asgard poses as a serious contender in the european court !
We go in an other dimension with Stormwarrior. Proud warriors, raise your swords, harness your horses, dress with chainmails and helms, and embrace your destiny ! Ok, it's cliché and some will say déjà-vu. But when it's so well done, we want more !
The Last but not Least : Brainstorm ! There were no other ways to finish this 5th edition of Rising Fest. If we kept some energy after those intense two days, the Germans achieved us. It was just huge, beautiful, great... (except for the moustache : Andy, it's a bad taste !). Anyway, a real Metal moment, it filled us with energy and we just want to start all over again !
A great thank you to all in this fifth edition : bands, volunteers et audience above all : you all give a lot from the beginning to the end ! See you next year !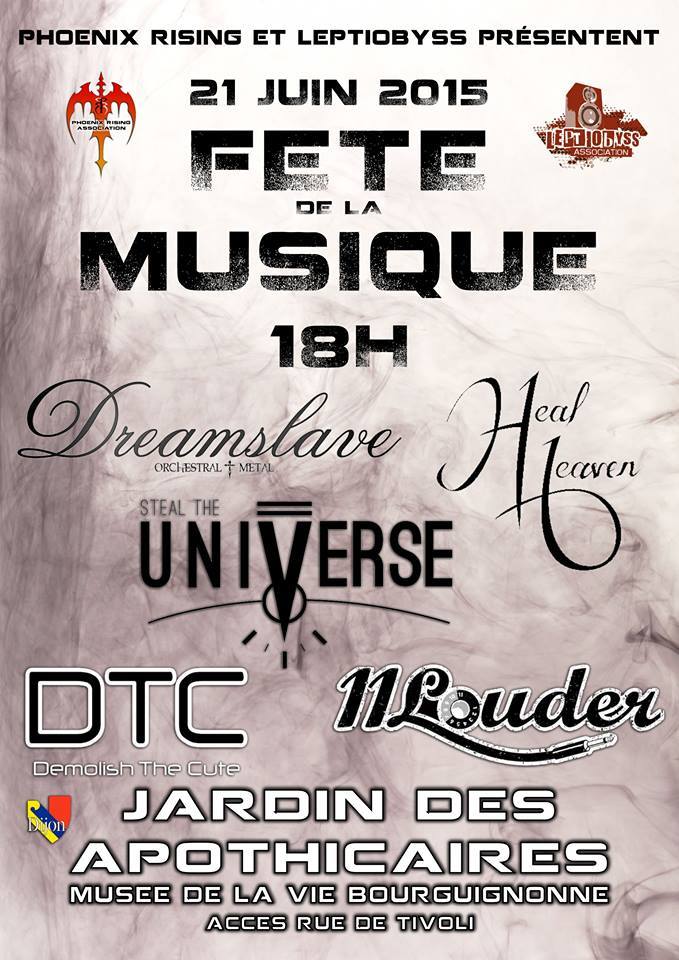 FETE DE LA MUSIQUE 2015
A great thank you to all for this beautiful Music fest, organised with Leptiobyss association !
With Demolish The Cute, Heal Heaven, Dreamslave, 11 Louder and Steal The Universe !
And thanks to you too Audience !!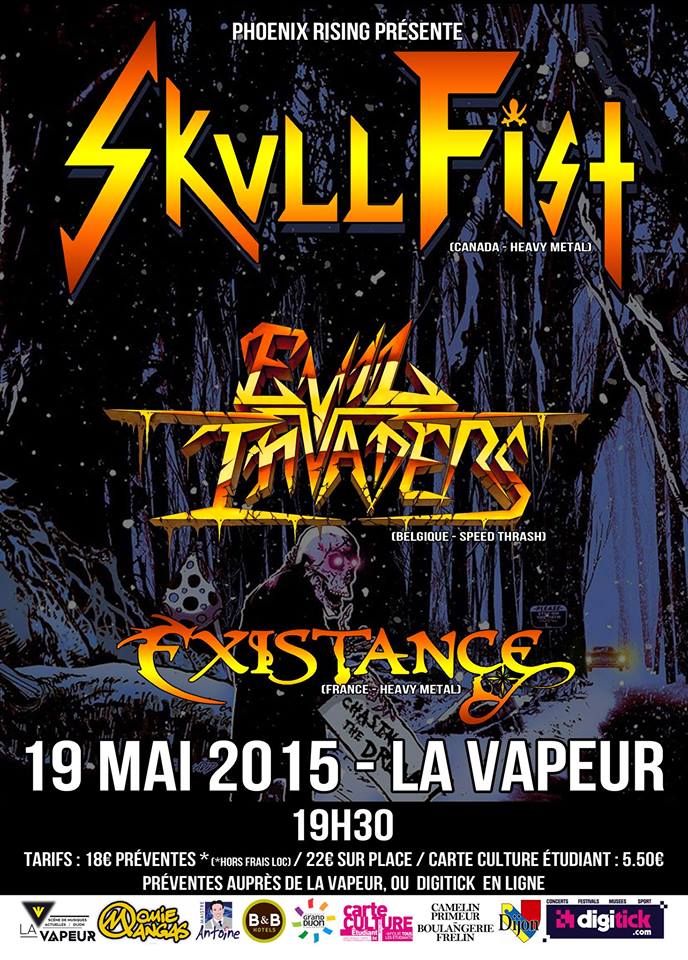 SKULL FIST, EXISTANCE AND EVIL INVADERS
EXCELLENT night !
What a pleasure to meet again Skull Fist in Dijon, in a "real" hall, to review also Existance in La Vapeur, and host Evil Invaders for the first time, but probably not the last !
Three great bands both on stage and at the human level ! But what is equally heartening is THIS PUBLIC !!
An audience that moves with desire to discover groups that it does not necessarily know, and leave with a smile, encouraging us to do it again soon. From the same view of the groups you were HUGE !! Absent made a serious error ...
Thanks to all !!
STAY HEAVY !!
HITTEN
Thanks to all the people that moved to the Acropole, sometimes from far ! And a special thank to the audience from Haute Marne come numerous !
Thank to the three groups that provided the show: Talers, MéS, and Hitten !
Thanks to you all, groups and public, we did a balanced concert and it truly is good for the morale of the red T-shirts !
So THANK YOU for your support !!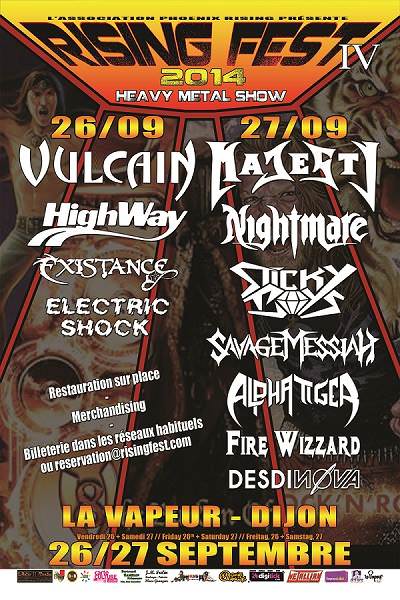 Rising Fest 2014
The Rising Fest is our biggest event of the year, and this time, the festival lasted 2 days !!
An experience to restart...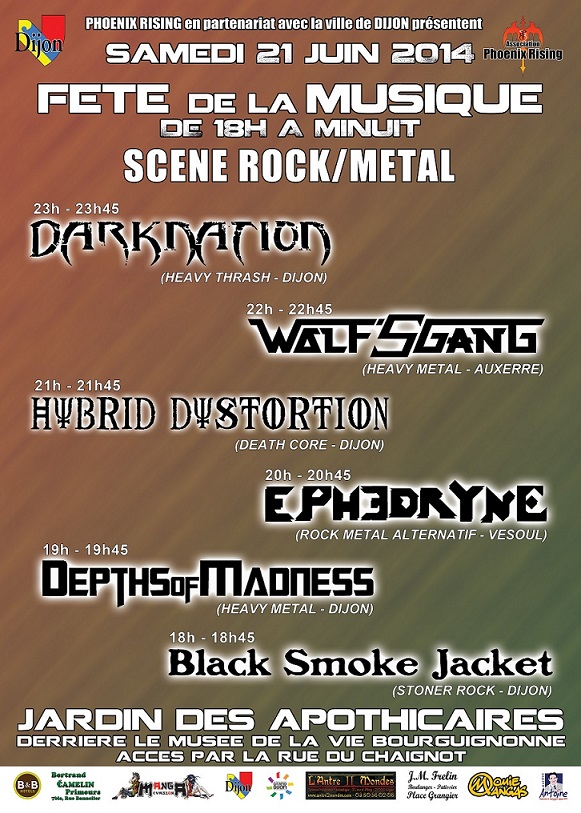 Fête de la Musique 2014
As every year, the stage of the Phoenix Rising association was in the garden of the Museum of Burgundian Life.
Many people came to see bands from Dijon, Auxerre and Vesoul, and everyone was pleased.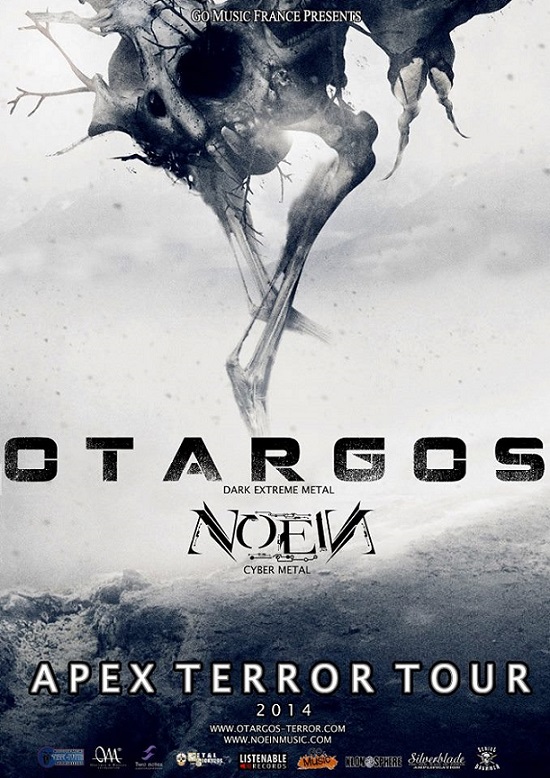 Otargos
As part of their APEX TERROR TOUR, Otargos, accompanied by Noein, went exceptionnally in Dijon, and they litterally ignited the crowd at the Deep Inside Club. Dijon is asking for more !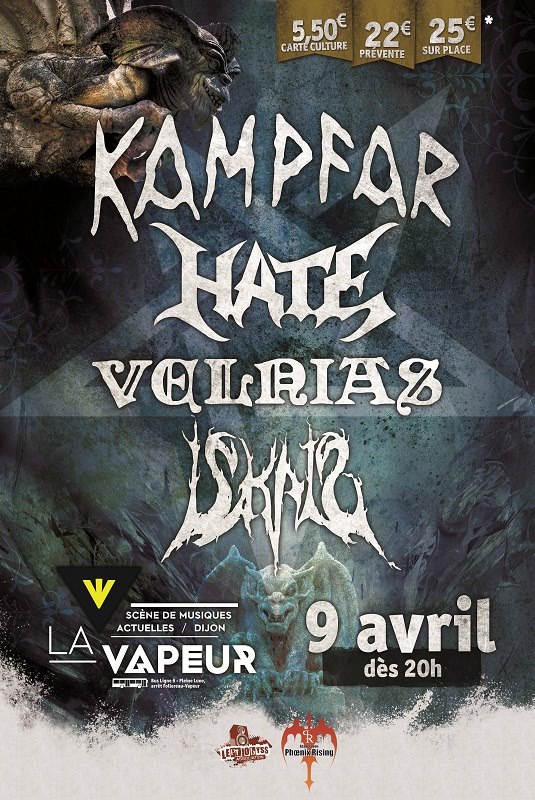 Kampfar
As part of their tour, with only 2 dates in France, Kampfar chose Dijon, and they were right !
With 129 tickets sold, the people from Dijon have shown they were ready to welcome this unusual scene. This concert was also the opportunity for a successful cooperation with the association Leptiobyss, so we hope to work again with them soon.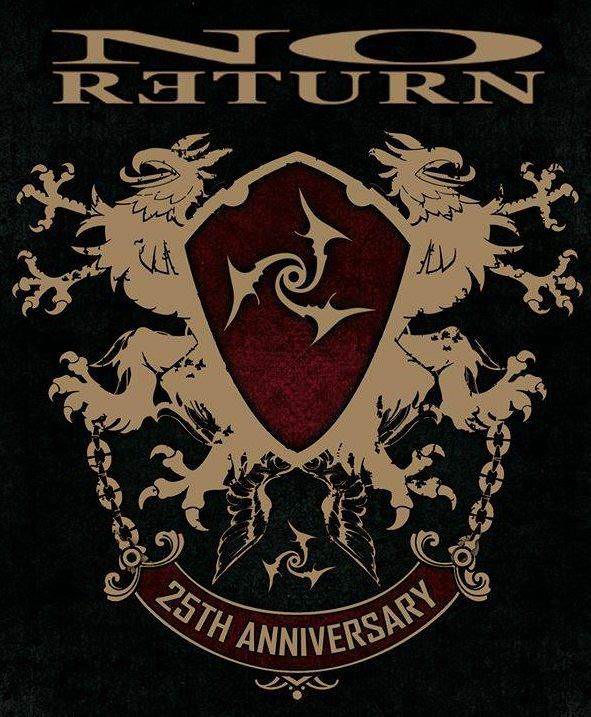 No Return
For this come back to the Acropole (ex-VLV), the crowd was ready (as we sold 91 tickets) to make a nice welcome to No Return, Evilness and Death Decline. Everybody was satisfied, what else ?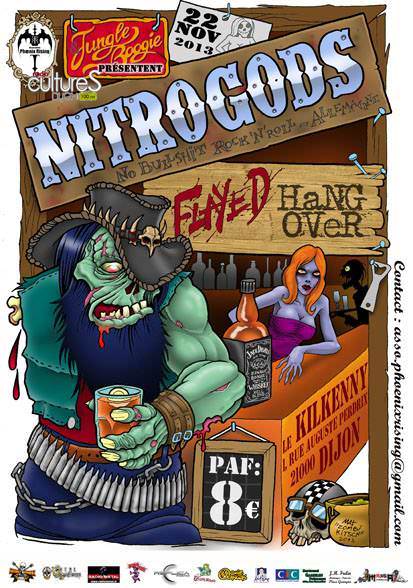 Nitrogods
In the usual atmosphere of the Kilkenny, Nitrogods found their audience waiting for them, and the crowd also really enjoyed Flayed and Hangover. Dijon rocks !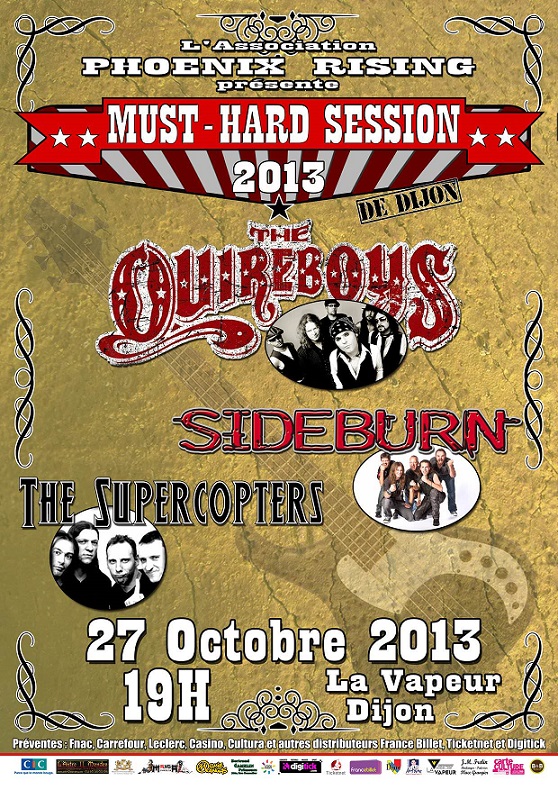 Must Hard Session
Since waiting to pay tribute to our city, here is : the Must-Hard Session !
And to start this first edition, some special guests :
- The english band Quireboys surfed the hard rock wave since the mid 80's, and their 7 albums show that they know how to attract attention.
- The swiss band Sideburn, for whom it is neither a first attempt either, as after 15 years of existence, they also have 7 albums, and for those who have seen the second Wolverine movie, you had the pleasure to hear "Six feet under". Awesome, isn't it ?
- And the Supercopters, our unavoidable rockers from Dijon, have accompanied them on that memorable evening.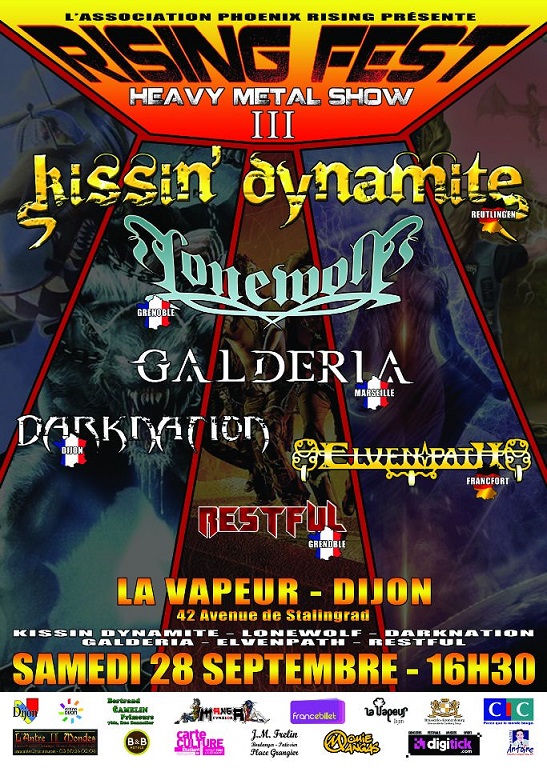 Rising Fest III
3rd edition of the Rising Fest, 100% Heavy Metal Show!
Power Metal, Heavy Thrash, melodic Heavy Speed, traditionnal Heavy Metal, Heavy Sleaze.... The Heavy Metal in all its forms, with more and more rising bands...
Heavy Metal Did Rise Again !
Oh yeah, another sold-out concert for the association ! No, we don't show off, but we're very proud that our festival become bigger and bigger.
This time, it's no less than 200 persons who came to see Restful, a dynamic hard band from Isère, Elvenpath, the first german band of the night, influenced by Manowar, Galderia, a melodic heavy band who came right from Marseille, Darknation, our little guys from Dijon who brought a touch of thrash in this festival, the Lonewolf guys from Grenoble increased hysteria in the Wolf division who rode from Alsace for this opportunity, and at least Kissin' Dynamite, second german band that look like classic glam rock bands from the 80's.
The festival took place in an excellent atmosphere for the crowd, the bands and the association.
Next year, we promise we'll do better !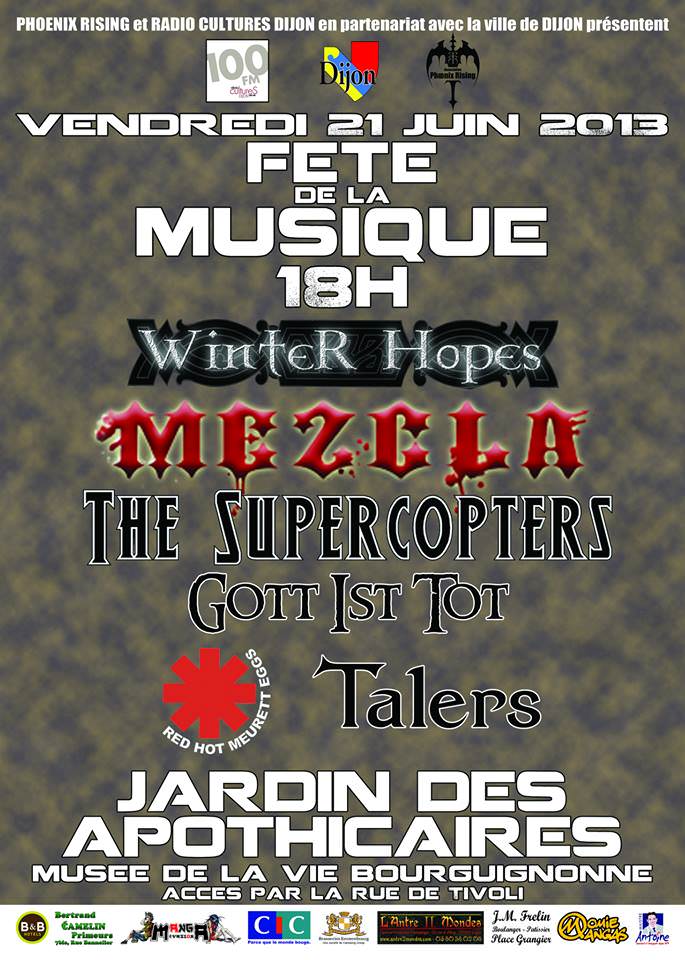 Fête de la Musique 2013
This time we did it ! No cancellation for bad weather, and even if some guys want to thank sunny Dijon's, we especially thank the municipality for lending us a covered stage !
Everybody enjoyed the concert which took place in excellent conditions in the garden of the Museum of Burgundian Life.
All the bands had their fans, the crowd turned over whole evening, as in every fête de la musique, but despite the distance from the city center, the garden was never empty.
In addition to the artists recorded on our poster, we had the pleasure to hear the Red Hot Meurette Eggs, which covers of original Red Hot songs were just so great !
And with Mezcla, the band from Auxerre who had a lot of success, late evening was on fire !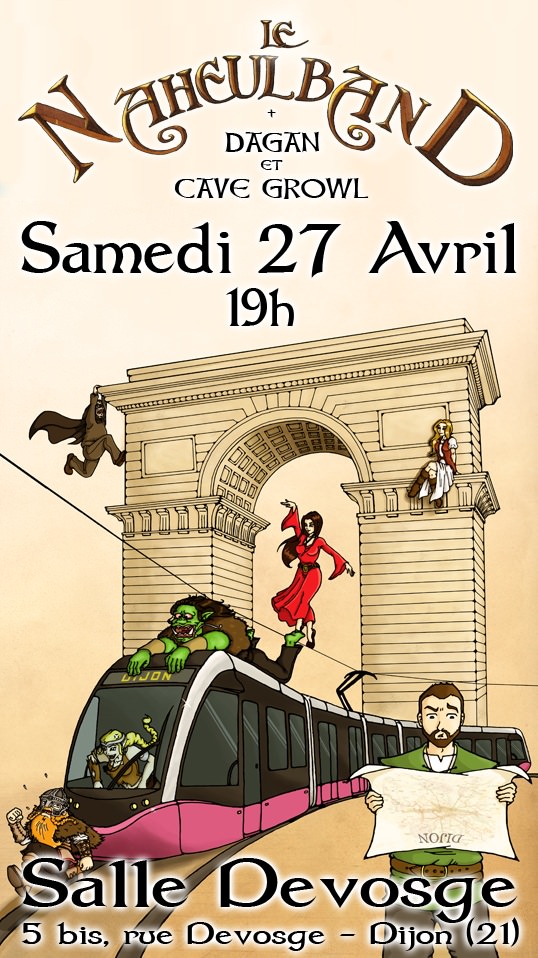 Naheulband part II
Oh yeah, they came back ! In this case, it was on April 27, in Devosge hall. Again big thanks to the municipality of Dijon for lending us this ideal place for this concert. I hope other similar cooperations may be done again.
It was a momentum, with a damn present audience (567 tickets sold), the Cave Growl band has warmed up the whole crowd, and the Naheulband, well, as usual, they made us sing, jump, laugh, from the beginning to the end of the set.
The merchandising stands also had their visitors, so as it seems to please everyone, we'll do our best to repeat such a good concert !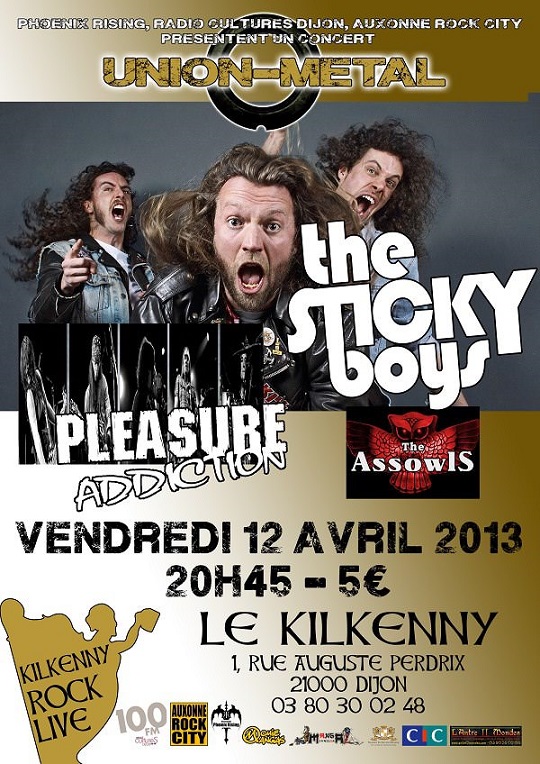 Sticky Boys at the Kilkenny pub
For our first concert at the Kilkenny pub, it was a nice success ! A concert organised by RADIO DIJON CULTURES , PHOENIX RISING & AUXONNE ROCK CITY, together around the UNION METAL label for this date.
Whether Sticky Boys, Pleasure Addiction or Assowls, they all gave us a very good time ! And the crowd was here, with 127 tickets sold. We hope we can do that again with the Kilkenny !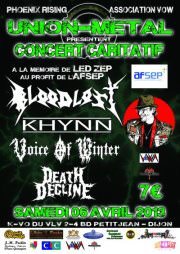 Tribute to Led Zep
A few months ago, Hervé passed away, aka "Led Zep", a friend of a lot of Dijon's heavy metal fans, both young and old, have had the pleasure to know.
Because we all wanted to do this tribute, Voice of Winter and Phoenix Rising were united one evening to propose an eclectic Metal concert, of high quality, thanks to 4 bands who came to play for free.
The profit of the concert were donated to AFSEP (french association of multiple sclerosis).
Concert Metal avec:
- BLOODLOST http://www.bloodlost.ch/
- KHYNN http://www.khynn.net/
- VOICE of WINTER http://www.voiceofwinter.com/
- DEATH DECLINE http://www.myspace.com/deathdecline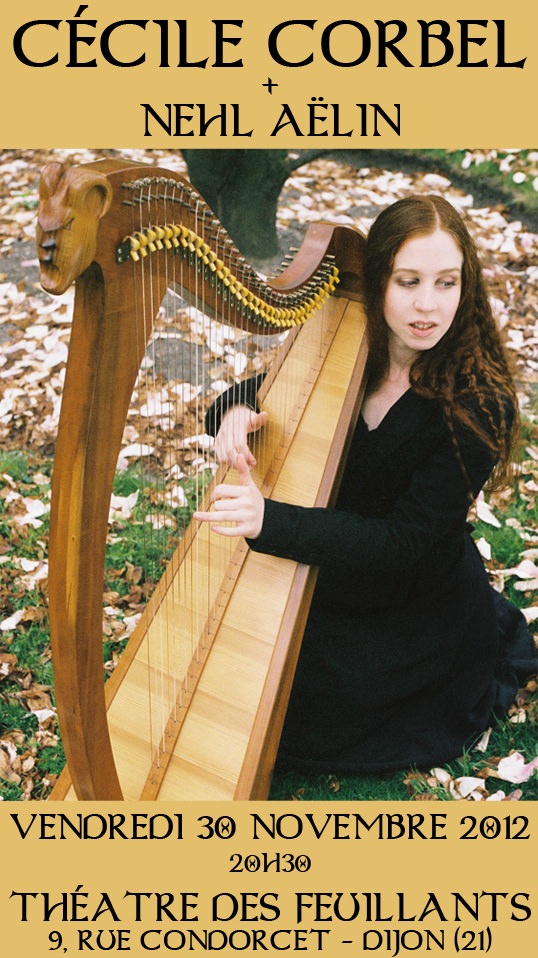 Cécile Corbel and Nehl Aêlin
First time for our association, this concert took place in a theater, les Feuillants. But we must say that this frame perfectly suited to the repertoire of Cécile Corbel and Nehl Aêlin.
This last evolved from its beginnings in 2002 in a world of fantastic music that appeals to children's feelings. It evokes by his singing colorful characters who invite you to enter the universe of Nehl Aêlin, the Saha world, a universe that recalls those of Tim Burton and Jean-Pierre Jeunet.
Highlighted by a simple piano, his voice is inspired by Tori Amos, Bjork, and Lisa Gerrard (Dead Can Dance).
Meanwhile, Cécile Corbel draws its musical inspiration from her Breton roots. After making four wonderful albums and wrote and performed the soundtrack of "Arrietty", the animated movie of Ghibli studio, the celtic harpist gave us the honor and pleasure to come to Dijon for an exceptional concert among international dates !
Cécile Corbel, accompanied by her musicians, takes you into magical lands to discover stories and legends that she sets to music.
On this occasion, we met with an audience mostly unknown of the spheres of metal, which was delighted with the show, and encouraged us to continue our activity. For the youngest, they had stars in their eyes, and that's also a nice reward.
The concert gathered some 250 people, and has proved a successful collaboration with the city of Dijon, for a first try, which pushes us to renew this experience next year maybe with another artist ?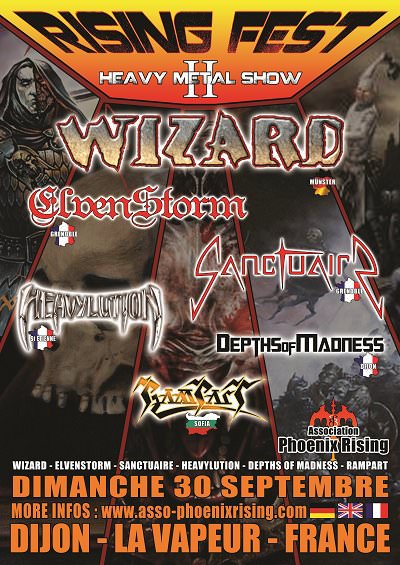 Rising Fest II
The second opus of our festival was held at La Vapeur, a prime location for this kind of event.
In the same vein as the first one, the festival hosted Wizard, a popular German group, which happened before at Wacken festival and Bang Your Headand festival, and which occurred for the first time in France; the Rampart Group, straight from Bulgaria, gave a heavyoldschool style with the particularity of a singer with a powerful voice; Elvenstorm, from Grenoble, showed us their first album, and we are pleased to assist this young promising band, in full ascent; Sanctuary Group, coming from Chambery, has given a boost to the French traditional heavy with punk and black metal influences; Heavylution, from St-Etienne, which already lapped on the stages of their region, presented a more modern and melodic heavy; Finally, our little Depths of Madness group from Dijon are well integrated into the colorful show, as they prepare for their first EP.
For this edition, the Rising Fest has risen in popularity since we hosted nearly 150 people, and Metalmaniax association has beautifully decorated the concert hall with an unique fresco painting. Something to motivate to prepare Rising Fest III!
La Scène Bourguignonne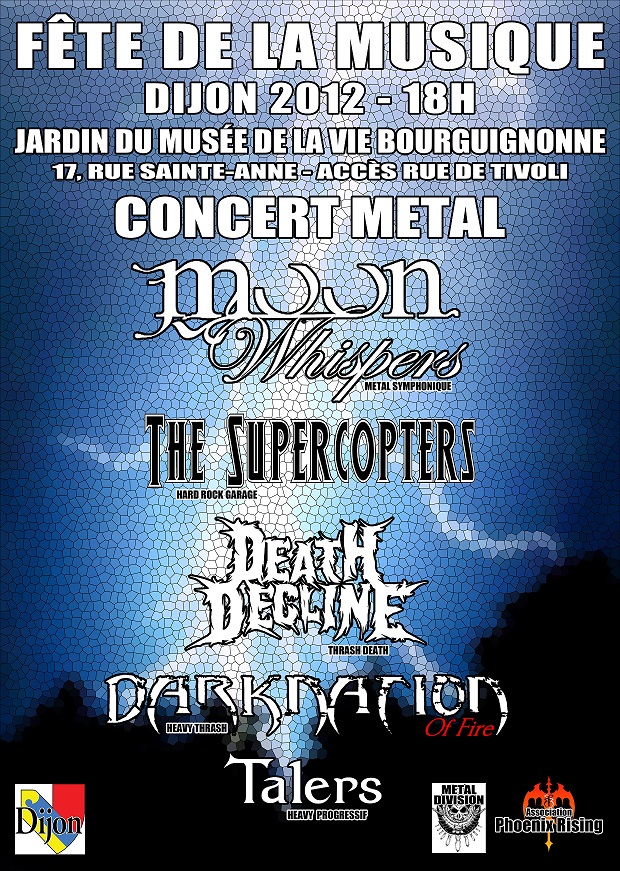 Fête de la Musique 2012
For this show organised in the garden of the Museum of Burgundian Life, landed by the city of Dijon, the association returned to its first musical style, heavymetal.
This free concert was to publicize local groups, but had to be canceled due to damage due to storms, despite excellent organization.
This is only a postponement.
La Gazette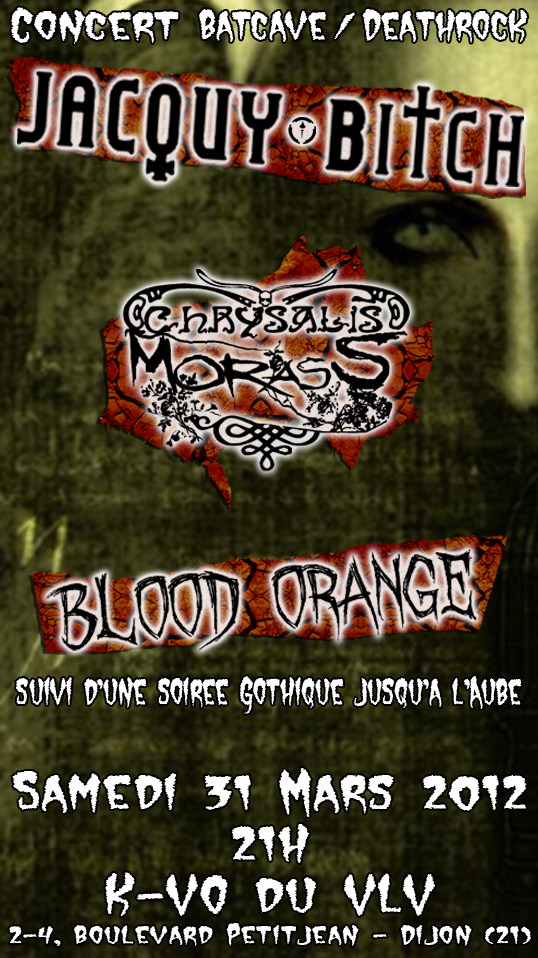 Batcave
L'association est revenue dans le caveau du bar VLV le 31/03/2012 pour cette première dans le genre à Dijon : Une soirée gothique jusqu'à l'aube, précédée d'un concert où un groupe local, ChrysalisMorass, a côtoyé un groupe suisse, Blood Orange, qui s'est également chargé de la programmation de la soirée, et Jacquy Bitch, bien connu dans les sphères gothiques françaises.
Avec 88 places comptabilisées, il s'agit d'une belle réussite pour l'association dans le cadre d'un premier concert du genre. Toutefois, la communication au sein de la communauté goth est peut-être à retravailler pour un impact plus grand.
100% Rock
L'association est sortie pour une fois de l'agglomération dijonnaise pour organiser un concert dans la salle du Chaudron à Aiserey, le 06/12/2011. Il s'agissait d'un concert de style rock, présentant trois groupes locaux, les RomaneeCounteez, les Supercopters et les Old Rustic Cheese.
Avec peu d'entrées, c'est un demi-échec pour l'association, en grande partie du à un manque de public, l'éloignement de la salle et le mauvais temps étant à mettre en cause.
La Scène bourguignonne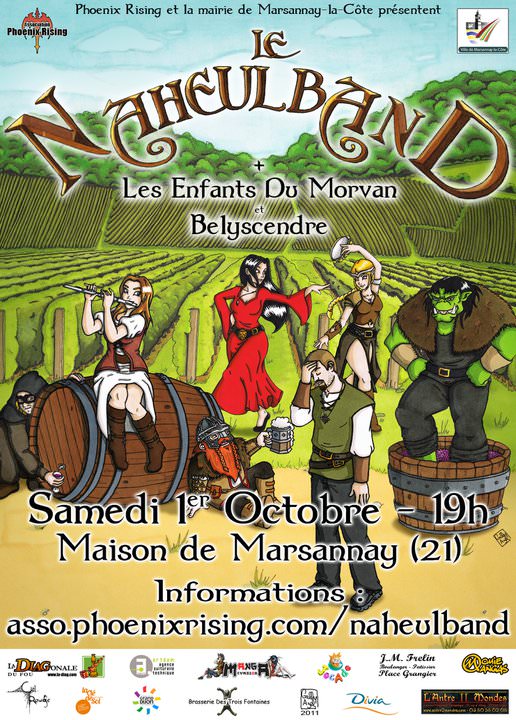 Naheulband
Ce concert a eu lieu à la Maison de Marsannay-la-Côte le 01/10/2011, grâce à un partenariat avec la mairie de la ville. Le groupe Naheulband, devenu célèbre sur la toile, nous présentait également en première partie Belyscendre, groupe de musiciens folkloriques, et entre les deux se sont intercalés les Enfants du Morvan, groupe régional.
Nous avons totalement rempli ce soir là la Maison de Marsannay, ce qui représentait une belle avancée dans la vie de l'association. Le plus gros concert de l'année, qui a eu l'opportunité de travailler avec les partenaires locaux, aide ainsi à faire parler d'elle au sein du Grand Dijon.
Le Bien Public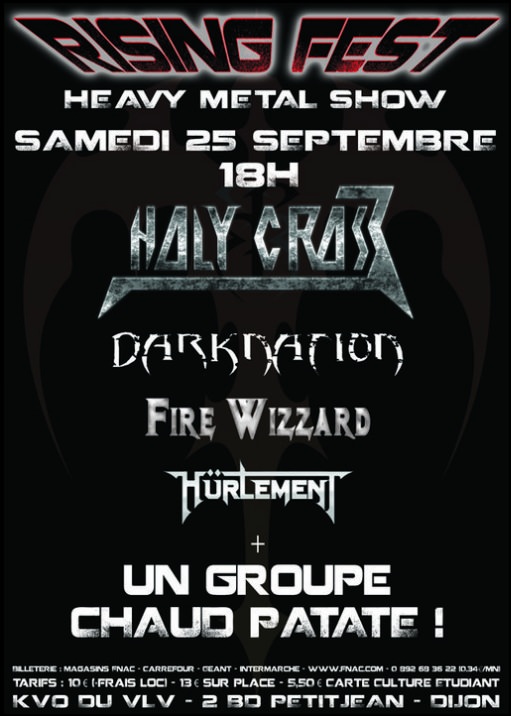 Rising Fest
Le premier festival de l'association s'est tenu dans le caveau du bar VLV le 25/09/2011.
Dans le style Heavy Metal, présentant des groupes locaux, Darknation et FireWizzard, venu de Mâcon, deux groupes nationaux, Hürlement et Holy Cross, et un groupe international, les canadiens de Skullfist.
Ce premier RisingFest, bien qu'encore modeste, donne beaucoup à espérer à l'association pour le deuxième opus prévu fin septembre 2012.
La Scène bourguignonne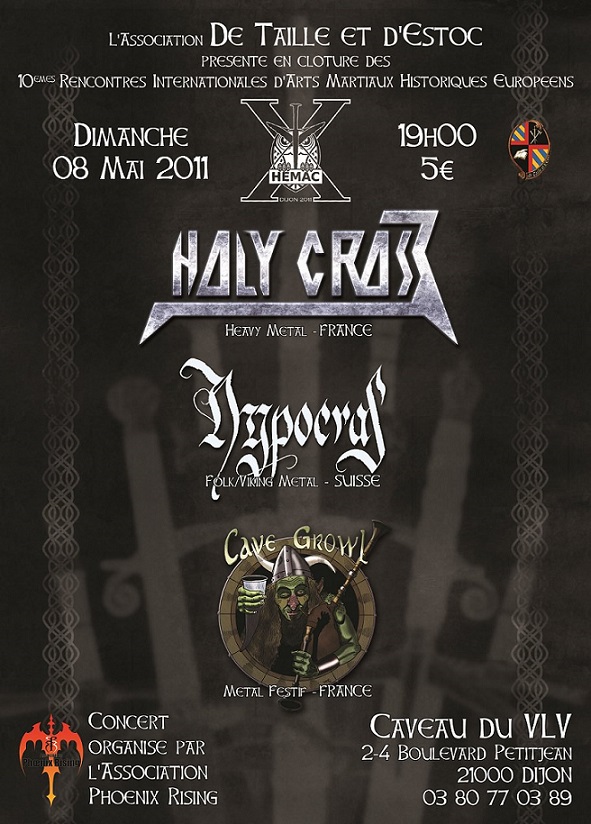 Clôture de l'HEMAC
L'association De Taille et d'Estoc nous a demandé d'organiser un concert, qui a eu lieu le 8 mai 2011 dans le caveau du bar VLV.
Il s'agissait d'un style Folk festif, présentant trois groupes de différents horizons français.
Une centaine de personnes ont participé, dans une ambiance belle et bien festive.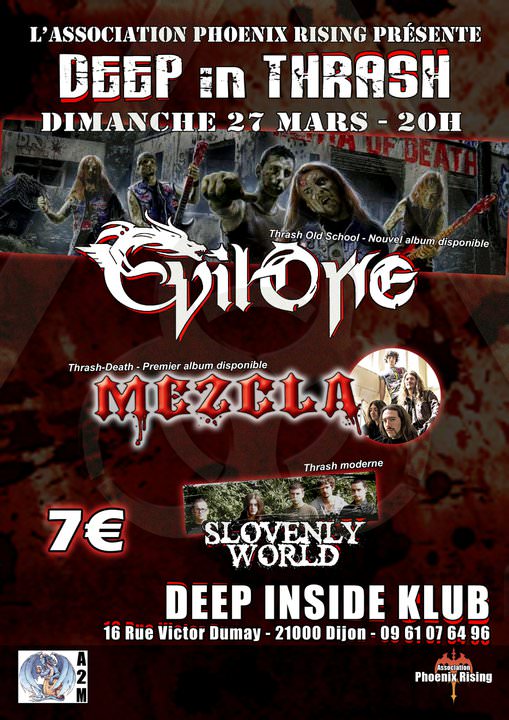 Deep in Trash
Ce concert a eu lieu le 27 mars 2011 au bar Deep Inside.
Trois groupes ont été présentés au public dijonnais, dont un groupe local, Slovenly World, originaire du Creusot.
L'association a tenté une manifestation dans un genre plus spécialisé, qui a tout de même amené 39 personnes à cette soirée.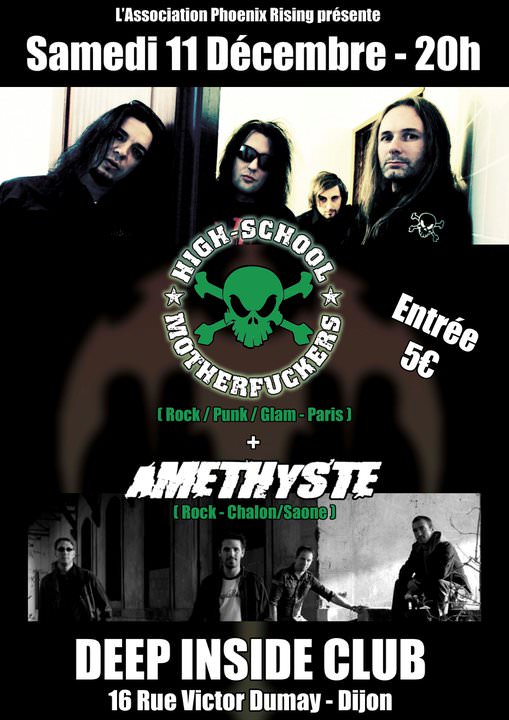 High School Motherfuckers
Ce concert, le premier organisé par l'association, le 14 décembre 2010, s'est déroulé au caveau Deep Inside, réunissant un groupe parisien et un groupe local (de Châlon-sur-Saône).
Il s'agissait d'un concert de style Punk Rock, et pour un premier essai, le concert a fait 54 entrées.